Kali Protectives Takes On MIPS With New Helmet Tech
Based out of Morgan Hill in California, Kali Protectives might not have been around as long as some other helmet companies, but what they lack in overall age, they make up for with innovative and unique technologies.
Owner, operator and lead engineer for Kali, Brad Waldron, is 100% driven by the desire to create safer and better protection for cyclists to reduce the potentially damaging effects of an over-the-bars excursion. As such, he's on the constant hunt for new materials and construction techniques that can help your helmet better manage impact forces so that your brain doesn't have to. Kali make an extensive range of helmets for mountain bikers, dirt jumpers and downhill shredders.
Admittedly we don't hear a whole lot about Kali in Australia, but the brands presence is slowly beginning to build. AMB readers will likely be familiar with the Maya Enduro helmet that was released last year, or the impressive Shiva Downhill helmet, which is regarded as one of the lightest full-face helmets on the market. At the other end of the spectrum is their road/XC helmet, the Maraka, which is without doubt one of the most comfortable helmets I've had the pleasure of wearing over the past 12 months.
While Brad started out his career in Aerospace R&D, he also has a long history in the mountain bike industry that provided him with the perfect platform to launch Kali Protectives. In a previous life he has helped start up manufacturing plants in China, and so he has a strong engineering connection with the people who are helping him to develop those new materials and the end product. Far from being a company that simply designs a helmet shape on a computer and sends it off to a 3rd party factory, Kali has a much deeper involvement in each of their helmet's development from the initial design and testing phase, right through to the finished product.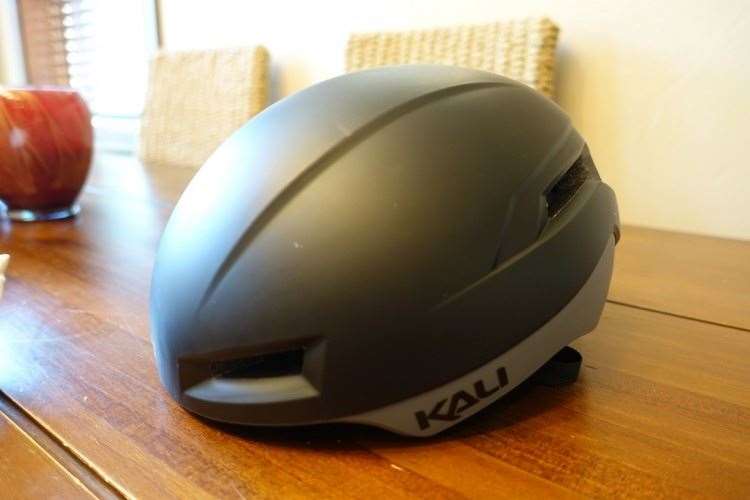 Kali is the sort of company that isn't afraid to do things differently to the status quo, providing they can provide a significant advantage over their competition. And that is very much the case with their latest helmet, the TAVA. Shown for the very first time during PressCamp last week in Park City, Utah, the new TAVA helmet is the first aero helmet from Kali, which is a little odd in itself given the company is largely focussed on the dirt. However, as Kali have stated themselves, they want to be a complete helmet company with options from the entry level, to the high-end, from dirt jumping through to road cycling. If they can create a product that helps protect a riders head, they're into it. The TAVA might also be an unusual helmet to feature for a mountain bike website, but bear with us here; there's some fascinating technology going on here that you're going to want to know about...
---